When someone has a personal pastime like beekeeping, coming up with gift ideas can feel both incredibly easy and remarkably hard. For instance, tools and supplies make terrible gifts for beekeepers since they likely already own everything they could possibly need.
Instead, get creative with your gift-giving this year! There are countless bee-themed gift ideas to choose from, so don't wait until it's too late to give the best beekeeping gift of the season.
18 Cute and Clever Gifts for Beekeepers They Don't Already Own
We're not just talking about professionals who produce gallons of honey a day or oversee the pollination of commercial crops. More and more homesteaders are picking up the trade each year, a trend that goes hand-in-hand with growing vegetables and raising chickens for their eggs.
We could even argue that hobby gardeners, especially those who grow native flowers and support the local pollinator populations, are beekeepers in their own right.
So whether you're checking off the full-scale apiary owner or backyard gardener on your list, these gifts for beekeepers are sure to please!
1. Old World Christmas Ornaments: Bee Skep
Few gifts are as thoughtful as a Christmas tree ornament. For the beekeeper in your life, add some buzz to their holiday decor with the Old World Christmas Ornaments: Bee Skep.
This blown-glass ornament is based on a traditional skep hive (think the style of beehive you see in Winnie the Pooh and other storybooks). While today's beekeepers use modern hive boxes instead, the bee skep design is still iconic.
Each hand-painted ornament measures 2.75 inches tall and includes a ring for hanging.
2. Betsey Johnson Bumble Bee & Mixed Flower Hinged Bangle Bracelet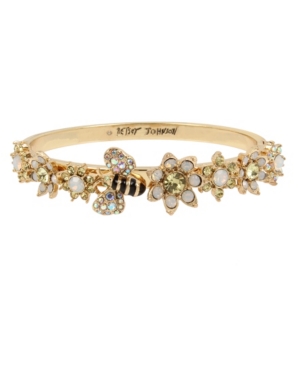 Beekeeping is hard work. When it's time to step away from the apiary and into society, though, even the grungiest beekeepers like to look nice. The Betsey Johnson Bumble Bee & Mixed Flower Hinged Bangle Bracelet is a great holiday gift idea for any beekeeper that likes a little glitz and glamor.
This Betsey Johnson bracelet features a bumblebee surrounded by several flowers. It includes a gold-toned finish and various stones — the bee's black stripes are painted on.
This bracelet uses a hinged design, so it's non-adjustable. The bracelet has a diameter of about 2.3 inches and will fit smaller wrist measurements.
3. Nordic Ware Honey Bee Cookie Stamps
If you know someone who loves mixing beekeeping with baking, then the Nordic Ware Honey Bee Cookie Stamps set is just one of the must-have gifts for beekeepers on our list.
One set comes with a honey bee, flower, and honeycomb pattern stamp. Each stamp measures three inches across and features a sturdy wood handle. The stamp faces are cast aluminum.
Nordic Ware is known for high-quality bakeware and unique designs. The company is most famous for its bundt cake pans. These cookie stamps are great for making holiday cookies or just everyday baking.
4. Certified International Bee Sweet 16-Pc. Dinnerware Set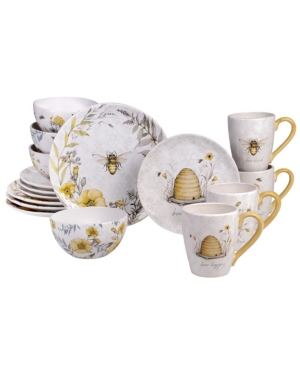 For a holiday, housewarming, or wedding gift that will really wow, the Certified International Bee Sweet 16-Pc. Dinnerware Set is a gorgeous collection for beekeepers and gardeners alike.
This earthenware set includes four dinner plates, dessert plates, mugs, and ice cream bowls. Each piece has a variety of bees, hives, and flowers. The mugs also bear the phrase, "Bee happy."
Everything in this set is made of natural, glazed pottery. Each dinnerware piece is dishwasher-safe and microwavable.
Recommended Read: 12 Best Mason Bee Houses
5. CROSSWALKS Bee Crossing 12″ x 12″ Aluminum Sign
No apiary would be complete without a "Bee Crossing" sign. And the CROSSWALKS Bee Crossing 12″ x 12″ Aluminum Sign has you covered this holiday season.
This is a great, light-hearted gift for any beekeeper, whether they're a hobbyist or a professional.
You can hang this sign indoors or outdoors. The sign includes one pre-drilled hole for mounting on a wall, tree, fence post, or building exterior.
6. PegandRail Honey Bee Trivet
If you're searching for a sweet and thoughtful gift for a beekeeper or gardener on your shopping list, the PegandRail Honey Bee Trivet  may be exactly what their kitchen's missing.
This solid cherry trivet serves as a hot pad for pots, pans, and casserole dishes. The carved design uses a food-grade mineral oil for longevity.
Each carved bee trivet is 5-by-7 inches across. It measures .75 inches thick and will protect any underlying surface, from a wood dining table to granite countertops.
7. Ann Arbor T-Shirt Co. The Bee Whisperer T-Shirt
You can't go wrong with a clever shirt as a holiday gift. For the beekeeper or gardener in your life, nothing will do the trick quite like the Ann Arbor  T-Shirt Co. Bee Whisperer T-Shirt.
This screen-printed t-shirt is designed and printed in Michigan. The shirt itself is also 100 percent United States grown cotton.
If your giftee would prefer a slimmer, more feminine cut, the Ann Arbor T-Shirt Co. also makes a v-neck version of this shirt design.
8. Studio Silversmiths Beehive Crystal Honey Jar
Shopping for an established beekeeper isn't easy. Chances are, they already have every beekeeping tool under the sun. Instead, turn your gift-giving ideas toward something like the Studio Silversmiths Beehive  Crystal Honey Jar.
This adorable honey jar looks like an old bee skep hive. It's a lead-free crystal that lets the natural beauty of the honey inside show through.
The hive honey jar measures 4.5 inches across and 5.25 inches tall. The included dipper measures 6 inches long.
9. Josh Bach Men's Bumble Bees Silk Necktie
A t-shirt that reads, "Ask me about my bees," might not be appropriate for formal affairs. But the Josh Bach Men's Bumble Bees Silk Necktie will fit right into your favorite beekeeper's next work event or cocktail party.
This black silk tie is made in the United States and features a collection of yellow bees "buzzing" around.
The tie itself is about 3 inches wide and 57.5 inches long. Each silk tie comes packaged in a stylish tin can, so you won't even need to both with wrapping paper.
10. A Charmed Impression Little Gold Bee Necklace
The Charmed Impression Little Gold Bee Necklace is one of the sweetest, most stylish gifts for beekeepers who enjoy the finer things in life when not out working the hive.
Each charm features 24k gold vermeil and 14k gold fill (a cheaper alternative to solid gold). The bee charm is tiny and cute, and measures just over .5 inches tall.
This necklace comes with a matching 18-inch gold chain and includes a basic spring-ring clasp. The bee charm will sit just below the collar bones on most wearers.
11. SPI Home Aluminum Bees and Honeycomb Windchime
Beekeepers and gardeners tend to overlap, and the SPI Home Aluminum Bees and Honeycomb Windchime is an amazing gift for both.
This handmade aluminum windchime features a honeycomb outline adorned with six hanging bee chimes. The entire windchime boasts a brushed brass finish for a slightly rustic look.
Each windchime measures 6 inches across and 22 inches tall (including the hanging bees). You can hang this windchime from a porch, shed eave, or tree anywhere in your yard.
12. Vagabond House Honeybee Hardwood Bar/Cheese Board
Another of our favorite gifts for beekeepers who are also handy in the kitchen is the Vagabond House Honeybee Hardwood Bar/Cheese Board.
Each board consists of hard acacia and places emphasis on the wood's natural grain pattern. This particular design subtly acknowledges your giftee's hobby or career with a small pewter honeycomb accent adorned with two busy bees.
This wood board is great for charcuterie or laying out baked goods for guests. Keep in mind, though, that it should be hand-washed and treated with mineral oil once a year to maintain its durability.
13. Design Imports Gold Brass Bee Napkin Rings
Oftentimes, the best holiday gifts are those we would never think to buy for ourselves. If someone on your list enjoys bees and hosting, then the Design Imports  Gold Brass Bee Napkin Rings are a gorgeous gift idea to fill a stocking or exchange in a game of White Elephant.
These stylish napkin rings are cast from solid brass — the gold finish on top adds an air of luxury. Each bee rests directly on the actual ring, so you don't need to worry about them falling or breaking off.
Our favorite thing about these napkin rings is how easily you can dress them up or down. They will look right at home in any table setting, from weekend brunch to a formal dinner party.
14. MeMoi Honey Bee Bamboo Crew Socks
As children, receiving socks as a Christmas gift was a toasty treat. And in adulthood, there's really nothing better than unwrapping a high-quality pair of socks for the holidays.
The MeMoi Honey Bee Bamboo Crew Socks feature a subtle honeycomb design over a black background. They also include small, buzzing honeybees across the entire sock.
These fun bee-themed socks fit men's shoe sizes 9 to 11. The fabric includes a blend of rayon, polyester, and spandex.
15. Nordic Ware Honey Bee Pancake Pan
Maybe your giftee doesn't bake cookies — that's fine. But if they enjoy whipping up a delicious, homecooked breakfast on the weekends, then the Nordic Ware Honey Bee Pancake Pan is worth putting on your holiday shopping list.
This pancake pan is a great gift idea for adults or children who love bees and all they do for the natural world. Each pan features seven pancake molds with designs like cartoon bees, honeycombs, and flowers.
This cast aluminum pan includes a toxin-free non-stick coating for easy use and cleanup. The plastic handle stays cool, even when placed on a high-heat burner.
Nordic Ware recommends hand-washing this pan for the best results.
Recommended Read: 10 Best Refractometers for Monitoring Your Honey
16. Primitives by Kathy Bees Serving Utensil Set
Looking for a gift with just a touch of the beekeeping theme? The Primitives by Kathy Bees Serving Utensil Set gives a subtle nod to your giftee's love for bees without being over-the-top.
This set includes two serving utensils — one spoon and one tined "spork" — made of bamboo fiber, cornstarch, and melamine. The end result is much like plastic, but with an eco-friendly twist.
The handles of each utensil feature a watercolor-inspired design of honeybees and yellow flowers. Each utensil, including the handles, measures just over nine inches long.
17. On Holiday Honeycomb with Worker Bees Christmas Tree Ornament
You can never have too many Christmas tree ornaments. Even if you've already gifted your favorite beekeeper a thematic ornament this year or a previous one, why not add another to their collection?
The On Holiday Honeycomb with Worker Bees Christmas Tree Ornament is painted polyresin. It features a honeycomb design accented by three honeybees.
Each ornament includes an attached hanger string and glitter detailing. They measure 3.65 inches tall and 2.9 inches across.
18. La Rochère Napoleon Bee Pitcher and Tumblers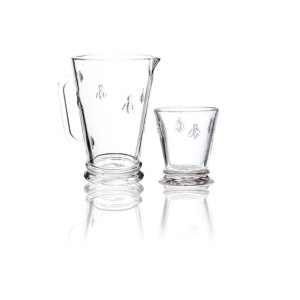 There seems to be no shortage of great gifts for beekeepers in the realm of kitchenware. If your intended giftee already has everything else on our list, then a set of La Rochère Napoleon Bee Pitcher and Tumblers will do the trick.
This set of glassware includes a large, 34-ounce pitcher plus six 9-ounce drink tumblers. Every piece features a few small, three-dimensional bees on its sides.
If your giftee needs a full set of glassware, then the La Rochère Napoleon Bee collection includes all sorts of different glasses and dishes.
Make This Year's Holiday Gift Exchange Buzz-Worthy
A new hive or queen bee probably won't fit under the Christmas tree or in your giftee's stocking. Neither of these ideas would be easy to wrap, either.
But you can certainly give them the next best thing with any of these great gifts for beekeepers and nature-loving gardeners.
Are you a beekeeper yourself? What beekeeping essentials do you love receiving as gifts during the holidays? Let us know your thoughts in the comments below!
Last update on 2021-04-19 / Affiliate links / Images from Amazon Product Advertising API